​Piaggio's MP3 | King of the Commuter Scooters!
What's got three wheels, cuts through traffic like a knife through butter and can be ridden on an ordinary car licence? Okay, there's actually only one answer to that, so it's not that tough of a question. Combine those three qualities and it all adds up to the Piaggio MP3 scooter, one of the best rides around town you can buy.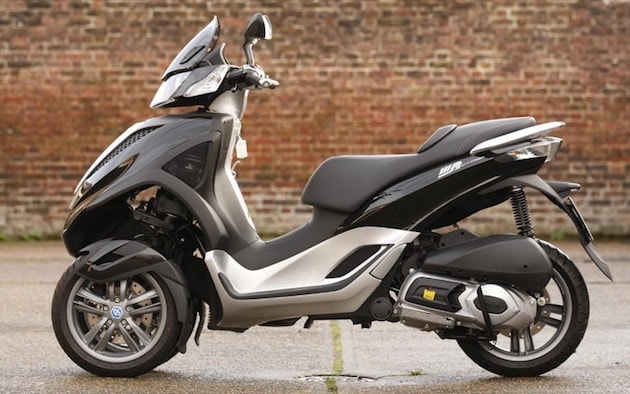 When it was introduced in 2006 it was a bit of an oddity, with its dual front wheels and quirky looks, but after the first few test ride reviews came in it was clear that the cornering ability provided from those three wheels was second to none; and with that mastery of corners came incredible rider confidence.

In fact, it's become so popular that close to 200,000 have been sold throughout Europe and along side the smaller, 125cc model, Piaggio now produce a more powerful 500cc machine too.
Rumours abound with regards to an electric version coming down the pipeline, but prospective buyers might have to wait until the new electric Vespa from Piaggio hits the roads first.
So we'd recommend not bothering to wait and getting yourselves a second-hand 125cc model instead - prices on current dealer websites sit around a rather tasty £3,000 for one with around 20,000 on the clock.
It's speedy enough to cope with even the most demanding of city traffic, yet narrow enough to make you feel like a filtering God! Naturally here at RideTo, we'd recommend that you get your CBT and then a full motorcycle licence, but the fact that this can be ridden on a regular car licence is a massive bonus and we're sure has been key to the little MP3's success.
Piaggio MP3 Specifications

Price: £3,799

Engine: 125cc, single cylinder, 4 stoke engine.
Power: 11Kw/15.1 bhp
Top Speed: 89 mph
Insurance group: 7/17 - Compare quotes now
Licence needed : Full driving licence
We have teamed up with the top bike dealers in London to find you the perfect motorcycle.