Top Motorcycle Festivals In 2019
James F · February 15, 2019
Motorcycle festivals are the ultimate way to enjoy the summer sun, with an increasing amount of younger bikes enjoying two wheels, there is not a better time to hit the roads and take your bike to festivals. Pencil in your diaries, dates from February to New Years Eve to ensure that you are prepared for the full fun of having two wheels. RideTo cannot wait for the summer festivities to begin, and if you are unsure which festivals or events to attend...read on.
Ace Cafe Reunion Weekend
The Brighton Burn Up Festival is undoubtedly one of the coolest and most historic motorcycle events that graces the UK every year. Ran by Ace Cafe, London's spiritual motorcycling home. Three days, three rides and one very big reunion, this event is certainly one to look forward to as the Summer wraps up and Autumn settles in. Live music and fingers crossed some sunshine along Madeira Drive, put it in the diary! Enjoy last years edit below for what to expect.
When: Friday 6th September 2019 - Sunday 8th September 2019
Location: Brighton
Price: FREE
Link: https://london.acecafe.com/event/ace-cafe-reunion-...
Bike Shed London
London's go-to hangout often runs events throughout the year but none are bigger than the Bike Shed's motorcycle show, stated as Europe's biggest independent show. Held at the Tobacco Docks rather than the Shed's base in Shoreditch, offering a large capacity with free on-site parking. A plethora of customer motorcycles from round the world, many of which have not been seen in the UK before with some live music, art, photography and of course tattoo artists and barbershop.
When: Friday 24th May 2019 - Sunday 26th May 2019
Location: London (Tobacco Docks)
Price: £20-£40
Link: https://www.universe.com/events/bike-shed-london-2...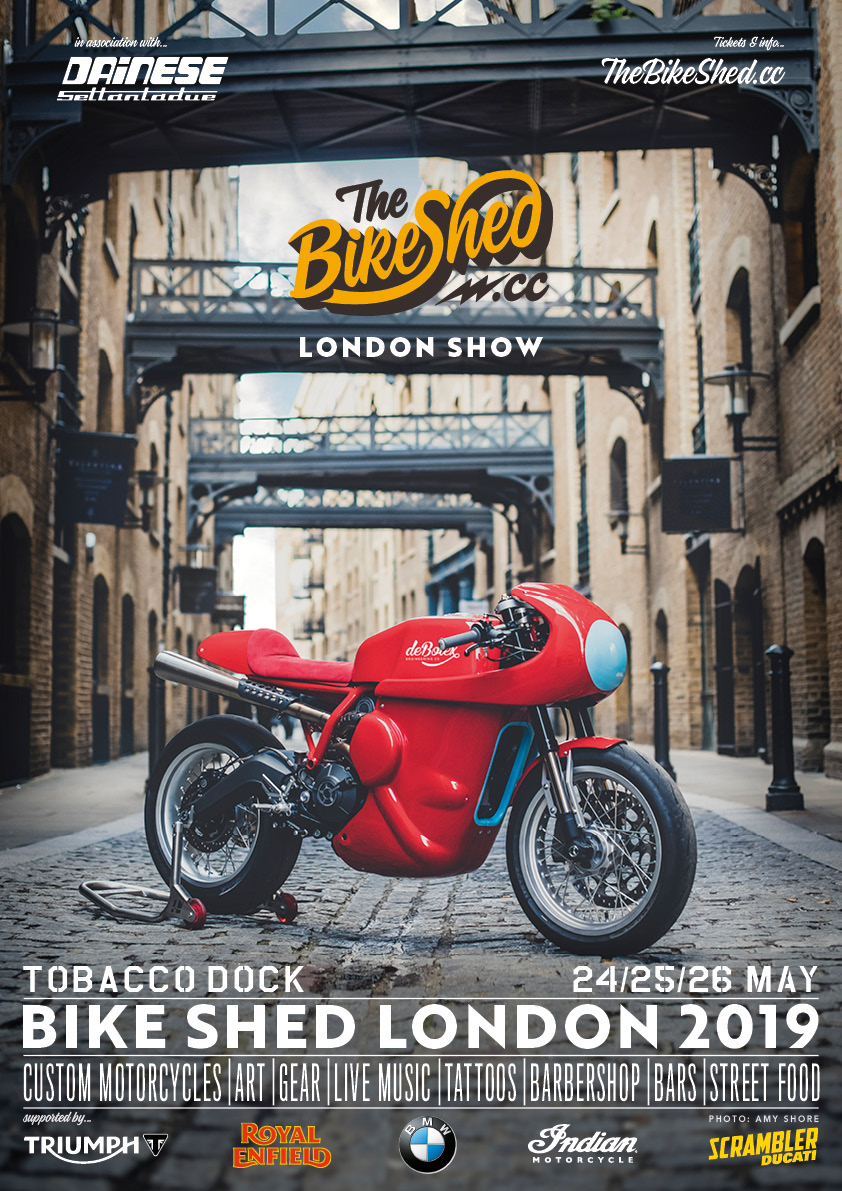 MCN Festival of Motorcycling
MCN Festival of Motorcycling is an incredible weekend filled with all things motorcycling. Hundreds of test rides hit the Cambridgeshire roads over the weekend. Hear the world's most exotic MotoGP Machines fire-up. With thousands of visitors and hundreds of exhibitors, the MCN Festival is one of the largest ran shows in the UK.

When: Saturday 18th May 2019 - Sunday 19th May 2019

Location: East of England Arena (Peterborough)
Price: £11-£15 (Day Ticket), £30 (Camping Weekend Ticket)
Link: https://www.mcnfestival.com/?_ga=2.77690774.385317276.1550240285-477030508.1550240285
Wheels and Waves
Our favourite abroad entry is the Wheels and Waves festival in June in Biarritz, France. 5 days of beautiful scenery, bikes; classics and custom, surfing and skateboarding with a lot of music, art and culture to mix up your experience.
When: Wednesday 12th June 2019 - Sunday 16th June 2019

Location: Biarritz, France.
Price: €25 (1 Day), €60 (3 Day) and €90 (5 Day).
Link: https://www.wheels-and-waves.com/en/
Isle Of Man TT
A world famous event, being the fastest road race on the planet, brings one of the most surreal weeks for any motorbiking superfan. Infamously dangerous with speeds well over 100mph being reported each year leads to eye-watering viewing but a once in a lifetime experience as riders roar past you each second and then they are gone. TT tickets are rumoured to sell out for the following year, while the event is occuring in the present year. This event may be one for the TV unless you have a boat charter spare. Consider putting 2020 in your diary. Feel the speed with the on board video below.
When: Saturday 25th May 2019 - Friday 7th June 2019

Location: Isle of Man
Price: SOLD OUT
Link: https://www.iomtt.com/tt-info
Distinguished Gentlemans Ride
Ride for a worthy cause at this year's Gentlemans Ride in London. Bring your best facial foliage and finest tweed as you ride to raise funds and awareness for men's health. The focus this year includes shedding light on men's mental health and prostate cancer with official partner - The Movember Foundation. Taking place in over 500 cities globally, all you need is a classic custom bike and a dapper attitude to go along with it. Think silk vests, tailored suits, cafe racers and bobbers if you plan to ride as distinguished gentleman. The ride is free however you are encouraged to make a donation and set up a personal fundraising page to help the foundation reach its goals.
Where : London, Bristol and Manchester,UK
When : September 29th, 2019
Price : Free but fundraising and donations are encouraged.